who we are
Demolition & Excavation Services in Panama City, FL
JAC Construction provides service for residential, commercial, industrial, government, institution, manufacturing, developers, recreational sites, and other companies. We provide our customers with quality, dependable and cost-minded services. Not only your solution for land clearing and demolition, we also offer debris removal, stump removal, brush removal, excavation, leveling, grading, concrete, storm drainage solutions, retention pond building, and all related services.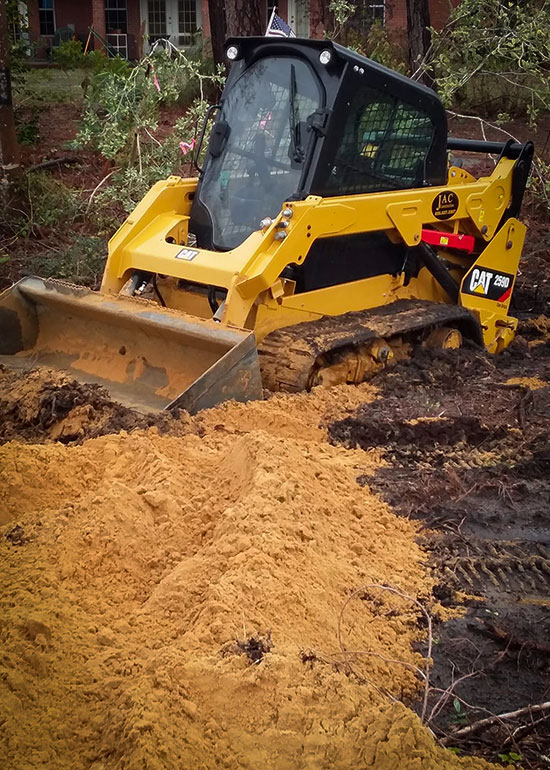 JAC Construction
Our Services
No matter the size of your demolition site, we have the equipment and the knowledge to tackle your project so you can start with a clean slate.
Whether your job site requires a complete excavation to get started or a complete fill to finish up, JAC Construction is the company you need.
Get us the size of your paving project and we will be right out to start on your paving with a quality product and professional team.
When Northwest Florida experiences storm damage, JAC Construction is the "go-to-source" for immediate assistance, whether for a residence or business.
Whatever your reason for clearing your land, we have the equipment and the expertise at the ready to get your space cleared for bigger and better things.
JAC Construction can create solutions to help control and disperse stormwater to prevent flooding and erosion on your property or business.
Let us perform the preliminary work of getting a construction site ready for development so your project commences in a smooth and timely manner.
Depend on our mastery to help choose the best foundation system and our expertise to drive, vibrate, or pre-drill piles for various foundation types.
Local experience you can trust!
"After the hurricane I hired JAC Construction to demolish my house and foundation. I can't say enough good things about Jason and his company. He is a true professional."
"Fair and honest. Pleasure to work with. Good people like them are hard to find these days."